itineraries
alban hills and lakes

Highlights
Terrain: massive double ring of volcanic hills rising out of the coastal plain, renowned as a sacred region from earliest times. Clear blue lakes, shady woods, panoramic views of the Apennines and the Mediterranean.
Of interest: well-kept towns famous for wines, food and grandiose villas. Roman roads and ruins galore. Vast regional park with a labyrinth of woodland paths.
History
On the slopes of Monte Cavo legend has it that Ascanius, son of Aeneas of Troy, founded the town of Alba Longa, cradle of Latin culture and mother of Rome itself. The early Latin tribes founded several major religious precincts: temples of Juno and Jupiter, and the sanctuary of Diana at Lake Nemi, whose presiding priest had to be a runaway slave who had killed his predecessor in single combat. This chilling ritual was made famous by Sir James Frazer in The Golden Bough.  Lake Nemi came to serve as a focal point for Latin resistance to Roman expansion. Alba Longa was destroyed around 650 BC; later the Alban Hills became prime real estate for Roman patricians – and remain so, dotted with elegant villas and castles from every period.
---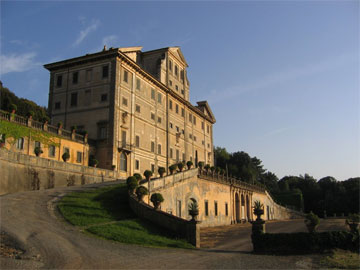 "… intriguing places, people, and history…we hope to walk many more miles with you!"
Susan Dormanen and Mark Welch
Santa Cruz, California
---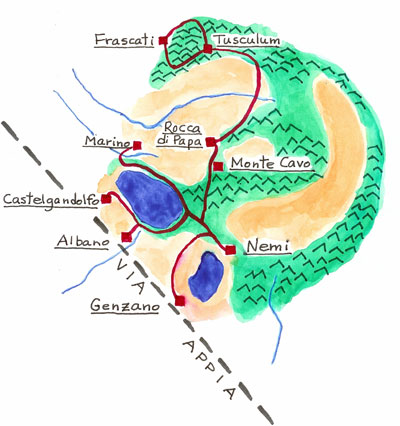 The Route
Frascati is a lively town known for wine, ornate baroque villas and a scenic position facing nearby Rome. As we wind our way up through the woods, a panorama of the Apennines to the east begins to open.  At the top of the hill is Tusculum, where many wealthy Romans including Cicero had villas.  The view is unobstructed - to the south, rising in the midst of a vast volcanic crater we see Rocca di Papa, a village of cascading terraces huddled on the upper slopes of Monte Cavo. At its summit stood the temple of Jupiter; here a well-preserved Roman road offers stunning vistas of the lakes below and the coastal plain beyond. It descends to beautiful Palazzola monastery overlooking Lake Albano, with a stunning view of Castelgandolfo, where the Pope spends his summers. A wooded path winds around the lake, past gushing springs and ancient ruins, to the bustling town of Albano on the Via Appia. A plethora of Roman remains are here: army camp, baths, amphitheatre, temples, villas, and a magnificent cistern, the last of its kind still functioning. Another path through the woods leads to Lake Nemi, "mirror of Diana": a small gem of a lake, with the colorful towns of Nemi and Genzano perched on the crater walls above.
Optional jaunts around Lake Albano to Marino and Castelgandolfo (where the Pope spends his summers).