itineraries
cori & the lepini mountains

Highlights
Terrain: steep mountains of white limestone; sparse Mediterranean vegetation with occasional patches of forest; vineyards and olive groves in the lower foothills. Colorful towns clustered on hills and cliffs; sweeping vistas of the snowy peaks, the coastal plain, and the shining sea in the distance.
Of interest: vestiges of pre-Roman towns with massive "cyclopean" walls of polygonal masonry; Roman temples and roads; striking medieval castles and abbeys.
History
Before Roman times many tribes vied for dominance here; their fortifications and roads, winding southeast through the foothills, are still evident. The Romans built temples, villas, roads and bridges – even though the straight, new Via Appia (crossing the newly reclaimed marshland below) left the mountain region rather isolated. After the fall of Rome the marshes crept back in and inundated the Via Appia, so the old foothill roads were resurrected – and the towns along with them. Castles and abbeys of historical and architectural importance were built here during the Middle Ages.



---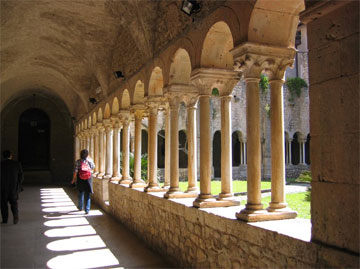 "…unbelievable places, just a few miles from where I have always lived… hidden mysteries… immensely exciting."
Marina De Chiara
Author and Professor
Università di Napoli "L'Orientale"
---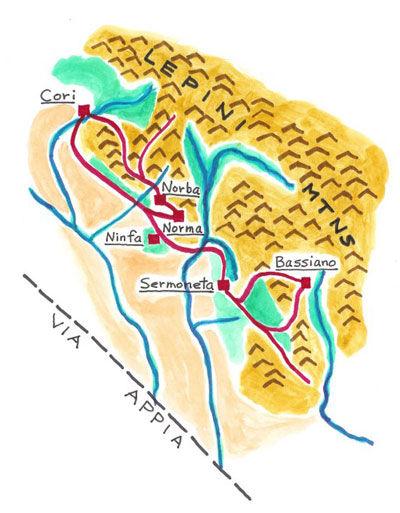 The Route
Our journey begins in the cone-shaped town of Cori – a tangle of winding medieval lanes and ancient terracing, accented with bits of Roman columns and arches. We'll trace a pre-Roman road through olive groves and vineyards, past the garden oasis of Ninfa, and up a splendid old stone-staired donkey path to the vast, walled ruins of Norba: Roman houses, cisterns, roads and temples, with a dizzying view of the coastal plain below. More hill towns await us: Norma, perched on a sheer cliff; picturesque Sermoneta with its famous castle; secluded Bassiano, nestled in a tranquil valley below Mt. Semprevisa. Along the way we'll pause at the graceful 12th-century abbey of Valvisciolo. For the super-energetic, treks into the higher elevations are available.