The Etruscans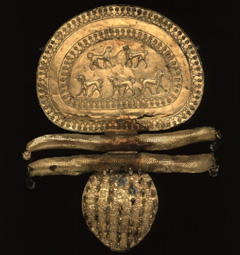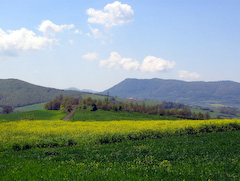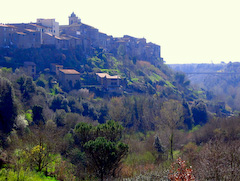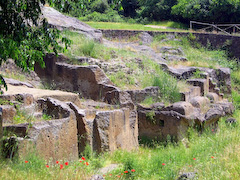 Seven hundred years before Christ, when Rome was still a cluster of huts along the Tiber, the Etruscans had stylish cities with paved streets, lavish palaces and temples. Technologically gifted, they excelled at metallurgy and accumulated wealth through sea trade, which led to cultural influences from the east, notably Greece. Adapting the Greek alphabet to their own exotic language, they became Italy's first literate people. Their exquisite work in gold is still hard to duplicate. Although Roman expansion eventually spelled their doom, Etruscan influence on Roman culture was profound.
Their heartland, roughly Rome to Florence, is a study in contrast: gentle farmland punctuated by rugged mountains, volcanic lakes, and wild gorges with distinct microclimates. Etruscan handiwork is preserved in the soft tufo bedrock: roads, water tunnels and monumental cemeteries that seem to celebrate life. Carved in rock to imitate wood, the tombs have roof beams, doorways, windows, moldings and furniture. Some feature colorful paintings of banquets with musicians and dancers, or daily activities like hunting and fishing. Painted pottery, lovely jewelry and other beautiful objects found in Etruscan tombs grace the world's museums. Roads survive as narrow slashes in the rock, descending almost tunnel-like into gorges.
Walking here is like a journey back in time. Our route follows the Via Clodia, a road the Romans built in the third century BC to administer their newly conquered territory. Paralleling the Biedano gorge, it passes Barbarano and Blera, originally Etruscan towns built on rock promontories for security. We also visit the tiny hamlet of Civitella Cesi, where the Antiquitates Center for Experimental Archaeology works to duplicate ancient technologies and buildings. Life in these isolated villages remained almost medieval until very recently. Not to be missed are the famous painted tombs of Tarquinia, a UNESCO World Heritage Site.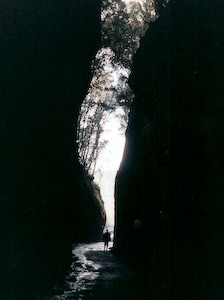 Etruscan road cut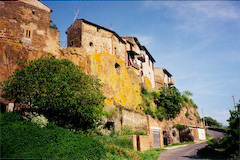 Civitella Cesi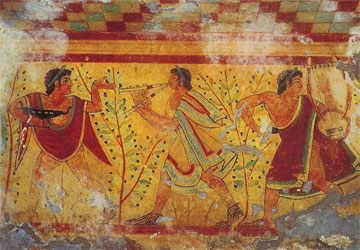 Tomb painting, Tarquinia