Will I join a group? You don't have to. The trip can be organized just for your party (four to six persons), with your choice of dates, itinerary, miles walked and accommodations. If you're alone, or would prefer to join a larger group, just let me know.
How long are the trips? Normally seven days. Shorter or longer trips may be possible on request.
What's the price range? For a 7-day trip about US$2000-2500 per person depending on group size, lodging choices and exchange rate (includes all expenses except air fare to Rome). I'll help tailor the trip to your budget – my overhead is low, and I've discovered wonderful places to stay and eat that offer superb value.
Where do we meet? In Rome, the jumping-off point for these trips. I suggest enjoying a few days here before your walk. It's one of the world's most fascinating cities – a great place to recover from jet lag. Tips on flights, lodging or sightseeing are available on request.
How strenuous are the walks? You have choices. On average we walk 5-9 miles daily (3-5 hours) in partly hilly terrain. We stop to see things and our pace is modest; still, perspiring lightly or pausing now and then to catch your breath is to be expected. If you'd like a less (or more) ambitious excursion I'll happily arrange it. Participants must be in good physical condition.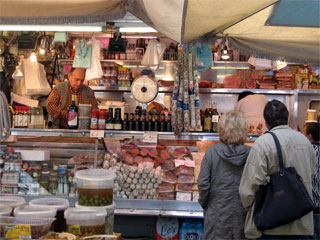 What are the meals like? Mouth-watering! A typical breakfast includes coffee/cappuccino, juice, pastry, bread, jam, cheese, yogurt, cereal, and fruit. Lunch may be in a restaurant with tempting choices or a rustic picnic of deli treats. Dinner is late (after 7:30 pm) but worth the wait: plentiful portions of delicious regional specialties and tasty local wines.
The accommodations? I've personally selected B&Bs, historic monasteries and village inns that offer great comfort and delightful old-world ambience. Budget or upscale options are available in many locations.
What should I bring?
1. Well broken-in walking shoes that don't mind occasional rough ground or a bit of mud.

2. Raingear: a light rain shell plus a compact umbrella.

3. A knapsack for the day's needs – water, snacks, camera, sweater, raingear

Who carries my luggage?  When we walk from town to town, it's shuttled.  If we take a train or bus, you'll be handling it. Traveling light is best.
How structured is our time? Most days have a full slate of activities; there's a space of free time each afternoon. In the evening we usually eat together, but doing your own thing is absolutely fine!
How firm is the itinerary? Reasonably firm. Minor changes are possi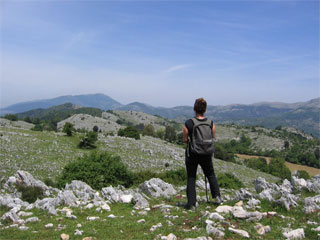 ble due to rain, a closed attraction or a sudden inspiration on the part of your guide. Rainy-day activities include visits to museums, churches, cafes and nearby towns.
What's the best season for walking? Late spring and early fall: rain is less likely, temperatures are mild and the air is fresh.
How do I sign up? First explore the website, then email me your ideas and questions. I'll help plan your trip and confirm the cost. A deposit of $500 per person will hold your dates. Booking early is advisable.
For more information please write to me.