Books for travelers - armchair or otherwise.

If you'd like to suggest a book or write a review, write to me.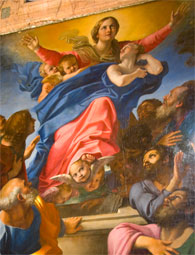 The Appian Way: From Its Foundation to the Middle Ages
Ivana della Portella (Los Angeles: The J. Paul Getty Museum, 2004)
This book is an inspiration. The photos alone tempt me to go walking; the historical anecdotes cinch it. But even if you're not ready to pick up and go to Italy, there's good reading here.
The Via Appia is a powerful cultural symbol. From its inception in 312 B.C., the "Queen of Roads" embodied Rome's bold aspirations and even bolder accomplishments. The broad, straight, all-weather highway was a great source of pride, and a promise of what Rome could provide: a link to the world, a channel for commerce, a share in the new order of prosperity and efficient administration. After Rome's fall the road surface deteriorated or disappeared under the soil, but its corridor continued in use, linked to tales of a long-lost empire. Along its route sprang up castles, watch towers, monasteries and towns. Some would prosper, others wither away.
The author eloquently voices such grand symbolism, and indeed, this is an elemental aspect of the Via Appia experience. But the details on the ground are where the book really excels. It was here that I first learned of the ancient Lepini Mountain towns of Cori, Norma and Sermoneta, where one of my favorite itineraries is now based. The dramatic photograph taken within a huge underground water chamber in Albano – the only still-functioning Roman cistern in Europe – first led me to this unique site. Closer to Rome, the chapter on the road's first few miles is chock full of unforgettable tidbits.
All this has added depth and color to my walks. I can't wait to follow up on more of the leads in this book.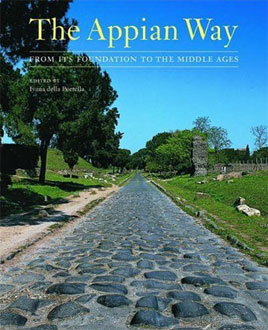 A Murder on the Appian Way
Steven Saylor (New York: St. Martin's Press, 1996)
Ancient Rome comes uproariously alive in Steven Saylor's historical novels. Roma (2006) is an epic saga of the city's rise to superpower stature over a period of ten centuries. I particularly enjoy the Roma Sub Rosa series: tales of Roman master sleuth Gordianus the Finder, beginning with Roman Blood (1991). In his relentless quest for the truth, Gordianus brushes shoulders with characters ranging from slaves, whores and gladiators to the leading personages of the Republic – and their formidable wives. Everyday life is turbulent and often terrifying, as powerful politicians and bloodthirsty street gangs vie for power in a never-ending game of chess.
A Murder on the Appian Way (1996) is based on the tumultuous events of 52 B.C., with the growing power struggle between Caesar and Pompey as backdrop. Publius Clodius Pulcher, a rabble-rousing politician loved by the plebs, dies on the highway south of Rome after a skirmish with his bitter rival Titus Annius Milo. Details are sketchy and rumors abound, but Milo is charged with murder – Cicero mounting the defense – and the city drifts towards anarchy as mobs rampage through the streets. Gordianus, hired by the "Great One," Pompey himself, ventures down the Via Appia to investigate. A marvelous adventure ensues.
Places to visit: The Roman Forum and Palatine Hill figure centrally in the story. Although no trace remains of the inn where Clodius died at Bovillae, it's quite easy to walk the highly evocative ten miles of the Via Appia from Rome's church of Domine Quo Vadis to Bovillae (known today as Frattocchie). There you may enjoy a rustic lunch of the justly-famous porchetta (roast pork) from nearby Ariccia at a roadside stand under umbrella pines (bus back to Rome). The presumed ruins of Pompey's villa – where Gordianus sojourns – are located in a park (Villa Doria-Pamphilj) in the town of Albano. Remains of Clodius's villa are said to be on the private grounds of Villa Santa Caterina in the Ercolano district of Castel Gandolfo. The surrounding hills abound with beautiful walks and nostalgic ruins: see Alban Hills and Lakes itinerary.
• Visit Saylor's website: www.stevensaylor.com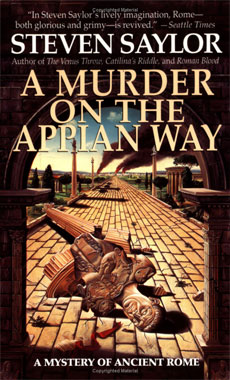 The Etruscan
Linda Lappin (Galway: Wynkin de Worde, 2004)
Writing in 2004, Lappin skillfully recreates the atmosphere of a 19th-century gothic novel: an upper-class English husband clinging to an outmoded social ethic, an American cousin with scandalously modern ideas, a passionate and seemingly ill-starred love affair, a dirty secret from the past. The story, set mainly in the bleak, wintry countryside of 1920s Etruria – heartland of the ancient Etruscans – poses a series of disturbing puzzles. At bottom rests a basic ambiguity: are things as they seem, or is another reality at work?
Harriet Sackett, an independent-minded American photographer, is a seeker of profound, life-changing experiences. Offered a commission to photograph Etruscan tombs carved in stone 2500 years ago, she takes up residence in a farmhouse near the village of Vitorchiano. Heedless of societal conventions, she carries on a free-spirited life that raises eyebrows in this rural region of Italy. Her liaison with the mysterious Count Federigo Del Re – an earthy yet ephemeral presence – draws her down a dark path that is at once chilling and exhilarating. The reader as well is drawn along irresistibly, albeit apprehensively, as details of her experience gradually come to light: we eavesdrop on journal entries seemingly at odds with the more dispassionate accounts of others. Always maneuvering in the background is Harriet's English cousin Stephen, a sinister personification of the repressive forces operating against women. Anything but cheerful, the tale hooks us nonetheless. Lappin, who resides in this part of Italy, has incorporated authentic local folklore and customs (mushroom gathering, boar hunting, dowsing for water) which add to the fascination. The Etruscan is hard to put down.
• See a video on The Etruscan: www.youtube.com/watch?v=jheL7mLYTJE
• Visit Lappin's website: www.lindalappin.net
Places to visit: The places in the book are real, but the geography has been distorted for literary purposes. Perched on a bluff between deep ravines, the walled medieval town of Vitorchiano (near Viterbo) is an undiscovered jewel with narrow lanes and beautiful stone buildings. The villa of Baroness Colonna is party based on Villa Lante, a renowned Renaissance garden complex at Bagnaia (open to the public). Remarkable Etruscan tombs are scattered throughout the area: find a guide at the Provincial tourist office in Viterbo or online at www.tusciaguide.it. See etruscan rock tombs and newsletter eight for my walks in this area. For eating/lodging tips please write to me.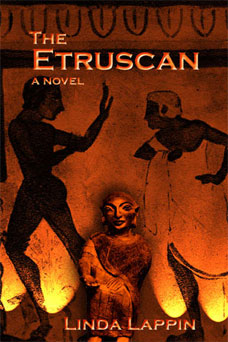 Travels to Tuscany and Northern Lazio
Mary Jane Cryan, illustrations by Justin Bradshaw (Vetralla: Davide Ghaleb Editore, 2004)
In the summer of 1763 Henry Stuart left Rome in his carriage, hoping some country air and a dip in the baths might do him good. The journey was pleasing: he went again the next year and also in 1776. Details are recorded in his diary – unearthed, translated and newly published by historian Mary Jane Cryan, long-time resident of the Tuscia region north of Rome.
Henry knew how to travel. Last of the Royal House of Stuart, he was born in exile in Rome and dubbed Duke of York by his father, "Old Pretender" to the English throne. Facing a dubious future he wisely chose the collar: at 23 he was made cardinal, destined to rise to the top of the Vatican hierarchy. His travel entourage was ample; the elite of Church and society jostled to offer him every comfort and courtesy.
His diary offers a rare view of 18th-century provincial Italy. There's much dry routine, but also festivals and amusements. In Bologna: "…theatrical scenery…tournaments…soldiers on a triumphal carriage…they threw various types of fowl to the people…pigeons, chickens, hens, ducks, guinea hens, goslings, lambs…" And buildings: Viterbo's churches, Palazzo Farnese at Caprarola, charming La Quercia – today's lively village was then used only for animal fairs. From there he strolls 2 miles to the Capuchin convent on the Palanzana hill, where he admires the garden. On another day he walks from the convent to Bagnaia's exquisite Villa Lante, a jewel of the Renaissance.
A chapter on other notable visitors to the area is included. The book concludes with a very useful guide to some of the sites.
The convent on the Palanzana hill above Viterbo has been restored; simple former monks' cells are available for lodging. One can still stroll in the garden enjoyed by the Cardinal Duke (and with a bit of effort find the trail through the woods to Bagnaia). It's called the Eremo di Sant'Antonio.
Another book by Cryan, with charming essays on this area, is unfortunately out of print: Affreschi: Exploring Etruria (with Norman Roberson). Grab it if you find it!
• Visit Cryan's website: www.elegantetruria.com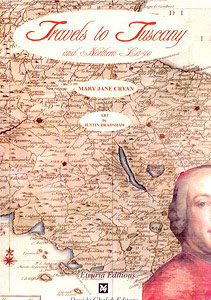 The Lost Ships of Nemi
Margaret Stenhouse (Frascati: Poligrafica Laziale, 2008)
Between 1928 and 1932, a small lake in the Alban Hills south of Rome was drained in order to retrieve two Roman ships which had rested at the bottom for nineteen centuries. Both were quite large and splendidly adorned, apparently for ceremonial purposes. The events captured worldwide attention, and a museum designed by a prominent architect was built specifically for the ships. But there was to be a tragic finale: in the final months of World War II, as the Germans army was retreating from the region, the ships were destroyed in a fire of mysterious origin.
Many questions were left unanswered. Who built the ships, and for what purpose? Why were they put on this tiny lake? How did they end up at the bottom? And who was responsible for their destruction? Margaret Stenhouse pulls together all available historical and archaeological information in an effort to answer these questions. She also chronicles the often-bizarre previous attempts to recover the ships, and details the sad story of their ultimate fate. The result is a gripping tale that is weird enough to fit well with the long, strange history of the Lake Nemi region.
This book can be ordered at italyupdate.travel. My walks in the Lake Nemi area are described on the Alban Hills and Lakes page.


Eturia: Travel, History and Itineraries in Central Italy
Mary Jane Cryan (Edizioni Archeoares, 2010)
With careful scholarship Cryan throws open creaky doors and illuminates the fascinating world of Etruria.  If you thought Tuscany had it all, think again.  On the other hand, if you are fortunate enough to already be familiar with Etruria, I'd still wager that you'll be surprised by some of the wonderfully obscure stuff in this book.  In Cryan's fourth offering about the land of the ancient Etruscans, roughly the area between Rome and Florence, she serves up a medley of historial curiosities, personal observations and colorful local customs that delight the reader.
Ancient tombs, castles, lovely gardens old and new, nature reserves, hot springs…Cryan tells where to find them and why you should.  Miracles, mysteries and strange legends are recounted.  There's even a scandal-sheet chapter about the wild life of Napoleon's niece Laetitia, who spent much of her youth in the area. Stories of other well-known foreigners who had connections to the region round out this colorful book.  If you haven't yet been to Etruria it may well entice you to come for a visit.
This book can be ordered from elegantetruria.com.  My walks in Etruria are described on the Etruscan Rock Tombs and Lake Bolsena to Orvieto pages.