Colors of the Appian Way • 12-19 May 2015 or by request
with stays in the lovely hill towns of Nemi and Sermoneta
Option 1: 3 nights in a cozy B&B (Nemi); 4 nights in a historic hotel (Sermoneta). 1800 Euros/person, double occupancy.
Option 2: 3 nights in Nemi B&B; 4 in a hostel in Sermoneta (restored convent with private rooms.) 1600 Euros/person, double occupancy.
Includes daily guided walks of 5 to 8 miles, meals, lodging and transportation for 7 days, and admission to selected museums and historic sites. Excludes airfare to Rome. 15% surcharge for single occupancy. Price in US dollars will be determined in April 2015; currently 1 Euro = US$1.22
Six-guest limit • book by February 1
In May the Roman countryside explodes with color. Please join me for a week of invigorating walks, wonderful food and comfy beds. We meet in Rome and venture south into a landscape imbued with history. Our guide is the Appian Way, first and most famous of all the Roman roads.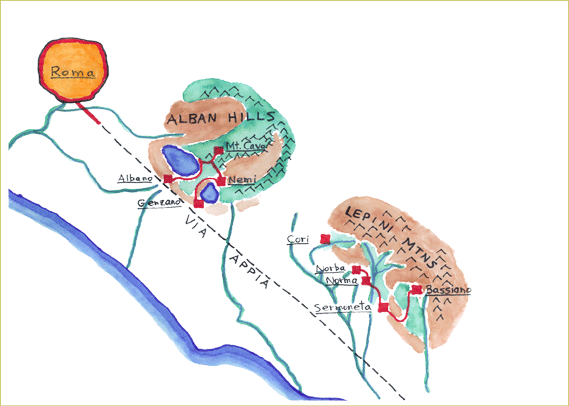 12-19 May 2015 • Book by February 1
Colors of the Appian Way
Twelve miles out of Rome, the Appian Way climbs the volcanic Alban Hills, legendary birthplace of Latin culture and sacred ground to the ancient Romans. Today colorful towns bustle with life amidst massive chunks of Roman villas and baths. In the wooded hills nestle blue crater lakes, ancient roads, hermit caves and remnants of mysterious religious sanctuaries. Here the likes of Goya, Goethe, Stendahl and Longfellow came to drink in the mystical ambience. The walking is superb. We'll enter an underground Roman cistern that's still in use, visit a museum of Roman ships and peek into a mile-long tunnel dug 25 centuries ago to regulate the level of Lake Nemi.
Alban Hills



Lake Nemi




Ancient retaining wall, Sanctuary of Diana




Lunch time!




Roman cistern, Albano




Edible colors




Nemi and its lake




Via Sacra ascending Monte Cavo




Waterfall above Lake Nemi




Appian Way near Rome




Roman Ship Museum, Lake Nemi




Caves, Lake Albano




Lake Albano




Ruined monastery above Lake Albano