Sturdy Roman roads, carved Etruscan tombs, sanctuaries of ancient gods, striking medieval towns and castles… Delicious meals, friendly people – come enjoy Italy at its best!

Dave

•  Undiscovered Italy, without the crowds
•  Just four to six guests
•  Your dates, your pace, your trip!
•  Delicious food highlighting local specialties and wines
•  Historic hotels, restored monasteries, family B&Bs, friendly village inns: old-world charm and comfort
•  Superb value: more Italy for your budget
Twenty years in the making, these trips introduce you to local people, beautiful country and surprises from Italy's past.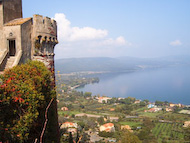 Our meeting point is Rome, one of the world's most fascinating cities. Consider enjoying a few days here before walking, especially after a long flight. Lodging recommendations and booking are available, along with tips on exploring the city: write to me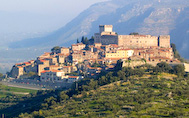 There's no "tour group" to join - you choose the itinerary, dates, how far we walk, and lodging that suits the style and budget of your party (four to six). Smaller parties can request inclusion in other groups.
Planning: every trip is built to order. Write to me several months in advance with your ideas, and book early for best availability. Spring and fall are best for walking.
Cost: Seven-day trips from 2000 Euros per person (about US$2200). Includes daily guided walks, lodging, meals, site admissions and ground transportation. Excludes airfare to Rome.

Questions? Find answers at Q & A

For further information or booking please write to me

Would you like to receive the Roman Road Walks Newsletter?
Click here to subscribe.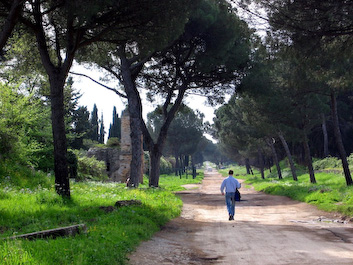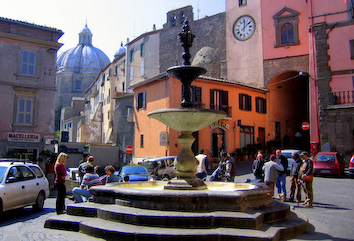 The lovely Campagna Romana boasts diverse landforms and ecosystems, from vineyards and olive groves to fern-lined canyons and dazzling volcanic lakes. Ancient roads converge on Rome; vestiges of a mighty empire pervade the land. It's a magical place to walk.